Origin Milk, Lancaster County, PA
Origin Milk. The Original Milk. Because Origins Matter.
About Origin Milk
Origin Milk is milk in its original form – original taste, original nutrition and original genetics. Our mission is to bring back real dairy that is delicious and nutritious while preserving our environment and heritage cow breeds. All of our products are produced fresh from select local small family farms with pasture raised a2 Guernsey cows in Lancaster County, PA and delivered to your door.
Our Guernsey cows produce less milk (3-4 gallons per day) but it's a more nutritious and flavor rich milk. One glass of our golden whole milk naturally contains 33% more vitamin D, 25% more vitamin A, 15% more calcium, 12% more protein, 300% more omega-3 (34mg/serving) than regular white cow's milk, and is approximately 5% milk fat. Origin Milk is also sourced from 100% a2 Guernsey cows which means our a2 Milk can be easier for you to digest. We minimally process our milk with a process called low-heat pasteurization without homogenization to preserve the nutritional integrity and delicious taste. Our Guernsey cows are pasture raised with non-GMO feed and never any hormones or antibiotics.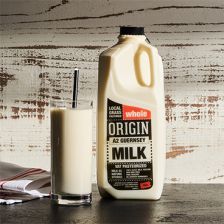 "Here at Origin Milk we believe local is best because it's fresh, preserves nutrients and it supports family led farms and their communities. Origin Milk is the Original Milk."

Adrian Bota, Founder of Origin Milk
In Season Now
From Origin Milk
EXPLORE THE WORLD OF BALDOR