Old Chatham, Old Chatham, NY
Sheepherding Company
About Old Chatham
Old Chatham Sheepherding Company was born back in 1993 when Tom and Nancy Clark bought 600 acres of lush grassy fields in Old Chatham, New York to form a sheep dairy farm. It soon became the largest of its kind in the United States. The Clark's were involved in every aspect of the operation for nearly twenty years, from helping design the barns and the creamery to making the cheese itself.
Old Chatham's Camembert, Ewe's Blue, Kinderhook Creek and sheep's milk yogurts have since won numerous awards and appear on restaurant menus and in the cheese cases of the best specialty food stores throughout the country.
Since 2012, Dave and Sally Galton of Shepherd's Way LLC, have been housing their own herd of sheep on the Clark's farm and providing the creamery business with their sheep's milk. It didn't take long for the Galton's to suggest moving the herd to a new sheep facility in central New York where David and Sally live. The new farm offers the sheep a very friendly animal environment where the highest quality milk can be produced.
The Galton's purchased Old Chatham Sheepherding Company from Tom and Nancy in December of 2014 and continue to produce Old Chatham's original line of artisanal cheeses and sheep's milk yogurts.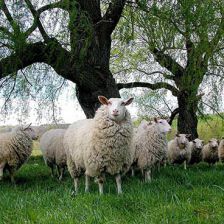 "We look forward to working with the OCSC professional staff in growing the business and continuing the traditions of OCSC in providing the highest quality sheep milk products."

David and Sally Galton, Owners
IN SEASON NOW
From Old Chatham
EXPLORE THE WORLD OF BALDOR