Mingle Mocktails, Philadelphia, PA
For independent spirits who love to party where fun is guaranteed but alcohol is optional.
About Mingle Mocktails
For independent spirits who like to party, Mingle Mocktails provide a delightful beverage experience so everyone feels part of the occasion!

Natural, sparkling, low-cal, alcohol-free mocktails in fabulous options like Cranberry Cosmo & Blackberry Hibiscus Bellini, enjoy Mingle two ways … either mix for a light cocktail or Mingle for an uplifting alcohol-free mocktail. Inspired by when she quit drinking & still wanted to feel part of the party, Laura Taylor launched Mingle to fill the need for those non-drinkers who deserve something other than seltzer so they can feel socially connected. Mingle is perfect for any party occasion whether at a bar or restaurant or hosting a family barbeque, our colorful cans and bottles radiate positive energy released in gentle bubbles, delivering joy with every sip and smile.

We just introduced single-serve cans with the already popular 750ML Mingle Mocktails bottles to provide more choice and portability. Perfect for hospitality, retail and corporate environments, you can offer single-serve cans or 750ML bottles at bars, restaurants, hotel and sports complexes or in retail settings like independent, natural, specialty or traditional grocers.

The alcohol-free movement continues to grow with over 30% of Americans don't drink and 60% take booze breaks. Now you can offer them an uplifting option to enhance their experience to keep them coming back for more.

Since launching 3 years ago, Mingle Mocktails has achieved significant online success while also working with over 3500 retailers nationwide ranging from independent grocers to national retail chains.

We are excited to work with you to bring a flexible non-alcoholic option to every occasion to ensure that people have a choice that celebrates their sparkle!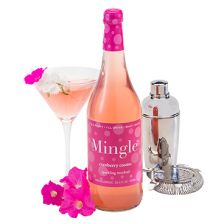 "It is time for people who choose to be alcohol-free for a day or as a lifestyle choice to have an option that is just as special as they are. Mingle fosters social connection and fun by providing a choice for all independent spirits to enjoy."

Laura Taylor, Founder & Booze-Free Badass
IN SEASON NOW
From Mingle Mocktails
EXPLORE THE WORLD OF BALDOR