ilili, New York, NY
The premier institution of Lebanese food culture and hospitality values in NYC.
About ilili
We are honored to celebrate Lebanese "joie-de-vivre" and share the culture of Lebanon in the heart of New York City.
Since 2007, our home in the Flatiron District has introduced the passion and generosity of the Lebanese table to hundreds of thousands; now we are giving you the opportunity celebrate our cuisine at home while helping our beloved homeland.
After the devastating news from Beirut, ilili has organized efforts supporting victims of the blast. In response, Chef and Owner, Philippe Massoud, his brother Alex Massoud, and the entire restaurant team have set up an Emergency Disaster Relief Fund for Beirut.
To extend our efforts, from Wednesday, September 9th to Wednesday, September 23rd, all four of our expertly crafted Baldor kits will contribute $3 per kit bought within that timeframe to our relief fund.
The fund is created in partnership with ilili's friends at SEAL, a 501(c)3 non-profit, non-political organization who are taking action in this tragic time in Lebanon.
We invite you to experience our old-world hospitality, timeless generosity, and tireless dedication to uncovering and sharing the rich traditions of Lebanon and the Levant. We thank you for the aid in helping our beloved Beirut.
Mini Cookbooks: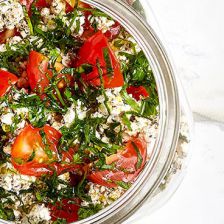 "Lebanese food revolves around balance and diversity, and defines itself as being a melting pot of experiences. Here at ilili, we hope the love and passion that we have for the food and spirit of Lebanon resonates in the hospitality, flavors, textures and essence of all the dishes you enjoy with us."

Philippe Massoud Owner / Executive Chef
CUSTOM HARVEST PRODUCTS
EXPLORE THE WORLD OF BALDOR