High Plains Bison, Denver, Colorado
America's Original Red Meat
About High Plains Bison
High Plains Bison ranches…where the high plains meet the Rocky Mountains and bison roam across a sun-soaked horizon, you can find the small piece of paradise we call home.
Only from our four stunning ranches in the United States and Canada, High Plains Bison customers can expect fresh, clean, great tasting bison that is the result of our distinctive animal welfare practices and vertically integrated harvesting program:
Animal Welfare Practices
Plenty of space to roam and graze
No antibiotics and no hormones
Choice of all-natural forages or our proprietary all-natural and ranch-specific feed
Superior Harvesting Program
Young, healthy animals for best taste, texture and appearance
No rinse and chill finishing methods
Strict food safety guidelines and inspections throughout each step of processing
In an industry where farm-to-table food is thriving, High Plains Bison offers the fresh-off-the-ranch experience that your customers desire in every mouth-watering bite.
Commitment to the Land and the Animals that RoamAt High Plains Bison, we are stewards in the restoration of bison to the North American plains. We proudly offer top sustainability and traceability processes and technologies, as well as humane and compassionate animal care practices. Bison are magnificent creatures that have been grazing here for over 10,000 years, and we feel passionately about ensuring they thrive for generations to come.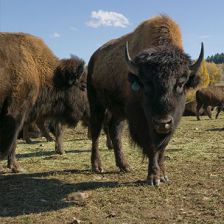 Our bison top sirloin is our most versatile cut. Whether it's grilled, broiled or slowly simmered in a stew, this steak will be sure to please every time!

High Plains Bison Kitchen