Good Water Farms, Bridgehampton, NY
Regenerate People. Regenerate Soil.
About Good Water Farms
At Good Water Farms, we believe that a plant-based diet is the key to a healthier future — and that microgreens are central to this shift. When cultivated using biodynamic farming techniques, these versatile, tasty greens benefit both the planet and its inhabitants.
The first true leaves of an herb or vegetable, microgreens are cleaner, stronger and more flavorful than their traditional counterparts. They feature four to 40 times the vitamins, minerals and antioxidants, with 100% bioavailability and healing benefits on both physical and energetic levels. We also deliver them within a day of harvest, in a packaging system designed to maximize freshness and nutrient retention.
Our regenerative methods mean our greens are grown in live, nutrient-rich soil for eight to 28 days, which allows them to develop into their perfect selves. Plus, our certification as one of the world's few certified Biodynamic® microgreens farms guarantee they are of the highest quality. It confirms that, beyond rejecting pesticides and cultivation methods that strip food of its vital properties and lead to environmental imbalance, we organize the biodiversity of the farm to create a self-regulating and renewable ecosystem.
Good Water Farms Custom Harvest Schedule
Order by

Delivery

Monday

Thursday

Tuesday 10 PM

Thursday

Wednesday

Saturday

Thursday 10 PM

Saturday

Friday

Tuesday

Saturday

Tuesday

Sunday

Tuesday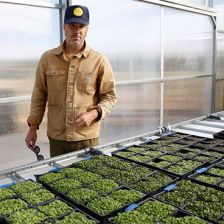 "Born of pure seed & pure soil, our microgreens are grown with extra reverence towards the earth. good water farms' microgreens serve this sacred purpose: feed people real food."

Brendan Davison, Founder
IN SEASON NOW
From Good Water Farms
CUSTOM HARVEST PRODUCTS
EXPLORE THE WORLD OF BALDOR