Delverde , Fara San Martino, Italy
Pasta made in Italy from pure spring water.
About Delverde
Produced in the Abruzzo region of Italy, famed for its pasta making, Delverde creates the finest, most delicious pasta. Pasta made with passion, the traditional way. Combining pure, mineral water from the local River Verde with the highest quality durum wheat semolina, Delverde uses only the best ingredients. Delverde pasta is extruded through traditional bronze die, giving it an uneven texture and making it perfect for sauces to cling to. It's then dried, using an authentic slow drying process to maintain the pasta's nutritional content and authentic light colour. The proof of our passion is now here to taste. Experience Delverde. Naturally good and simply delicious pasta.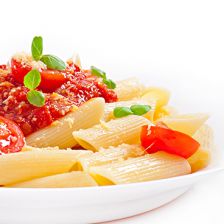 "Our mission is quality, and we also believe that bringing innovation is a duty for a premium brand."

Luca Ruffini, Managing Director Delverde