Delifrance, Paris, France
Croissants Available Daily!
About Delifrance
Délifrance is an international bakery company creating "French style" bakery products for over 25 years. Dedicated to recreating authentic French flavors worldwide, they use only the finest ingredients including Brittany butter, cane sugar, whole grains and sea salt in all their breakfast products. There can be absolutely no compromise on ingredients in Delifrance's honored French pastry tradition including their 'quick service' breakfast line of pastries.
Once pulled from the oven, Delifrance croissants and danishes deliver the authentic flavor and texture you find in any pastry stall along Paris' Rue de Seine.
The production process, inspired by artisan know-how, is long and treats the dough gently, allowing the savors to develop and creating the open crumb that characterizes rustic bread. Part baked on a natural stone hearth oven, to give the bread an attractive, golden and crunchy crust.
- Product trays feature individual compartments for each bake-off item, allowing them to maintain their shape and integrity during shipping.

- Pre-proofed, ready to bake

- Made with real butter (18% fat content or higher) resulting in flakier crust

- Delicious fruit fillings made with real fruit compounds

- Ready for delivery 6 days a week, year-round availability

- Perfect for restaurants, cafes and hotels

- Ready to serve in under 18 minutes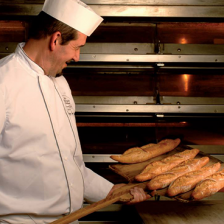 Delifrance's classic croissant has been putting a smile on the faces of millions since 1983!

The Delifrance Team
IN SEASON NOW
From Delifrance
EXPLORE THE WORLD OF BALDOR